Details
PLEASE NOTE: Due to the large product size or weight shipping restrictions may apply. We might need to requote on the delivery cost depending on your location and total order value.
Description
Atami Cocos substrate Growing Medium is a high-quality compost comprised of coco fibres extracted from the mesocarp of the coconut; consequently, it is a 100% natural product.
Cocos substrate is designed so that it may be used immediately. It contains a basic plant fertilizer, recommended for carrying nutrients after fertilizing. Because of the structure of coco, it can store nutrients that are continually available for the plant.
Cocos substrate is produced under controlled conditions, which is an assurance of quality and offers the ability to use it many times over.
Cocos substrate can absorb plenty of water in a short period of time and can also deliver water rapidly and abundantly. The roots also have plenty of available oxygen, which keeps them active. Despite the absence of residual water, there is always enough humidity for the plant.
Cocos Substrate has the RHP certification, which guarantees the substrate's quality and ensures the reliability of properties.
Ingredients: Coconut fibres, Mineral Lime, Calcium Nitrate and NPK fertilizer 11-27-8
Water Addition
Manual: daily in combination with enriched irrigation water.
Automatic: 1 to 8 times a day in combination with enriched irrigation water.
Dosage
Guideline: Use 1 to 5 litres of nutrient solution per m² per day for mature plants. Atami advises keeping your plants well monitored during the growth process to see whether they thrive or not and to adjust accordingly.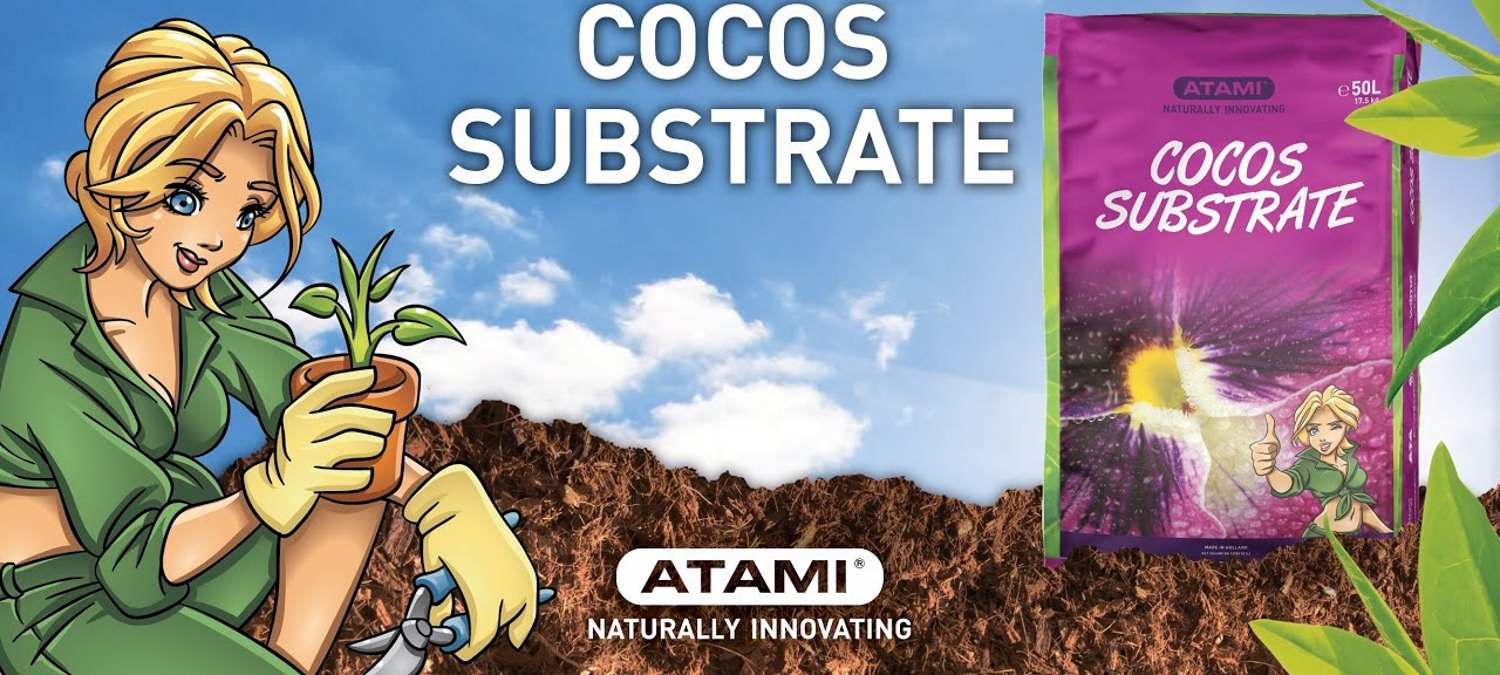 Features
100% Natural product
Comprised of coco fibres extracted from the mesocarp of the coconut
Airy structure
Optimal root development
Reusable after each growing cycle
Produced under controlled environments to ensure quality
Specifications
| | |
| --- | --- |
| Ingredients | Coconut fibers, Mineral Lime, Calcium Nitrate and NPK fertilizer 11-27-8 |
| pH (H2O) | 6.0 (+/- 0.5) |
| EC (1: 1.5 H2O VV) | < 1.78 mS/cm |
| Organic Matter | > 85% (From dry content) |
| Weight | 17.5 kg |
| Moisture Content | < 85% |
| Volume | 50 liters (EN12580) |
| Water Capacity (PF1) | 9.0 g / g (+ / - 1) |
| Air Content (PF1) | 20% |
Be the first to review this product
© 2013 - 2019 Futurama.co.za - A Division of Ultranexus (Pty) Ltd | All Rights Reserved | Company Registration No: K2011/114945/07 | VAT No: 4390263624