Details
Description
Small in Stature - Serious in Power. A nimble and versatile workhorse, the Marshall Acton Wireless Speaker joins the Marshall family with vengeance, carrying on a long standing tradition of loud. With a well balanced audio boasting a clear midrange and extended highs, the Acton speaker gives an experience that is both articulate and pronounced. Its powerful deep bass seems to defy the laws of nature for it's small size. It is these hifi qualities packed into a classically designed and compact frame that set the Acton apart, positioned to take on even the largest of competitors. Acton's custom control 3 analogue interaction knobs allows you to fine tune it to the exact sound you desire. When it come to looks, the Acton has inherited all the family traits, boasting the classical and durable vintage design, and iconic script logo that is so distinctly Marshall. The Acton is right at home with the rest of your Marshall collection.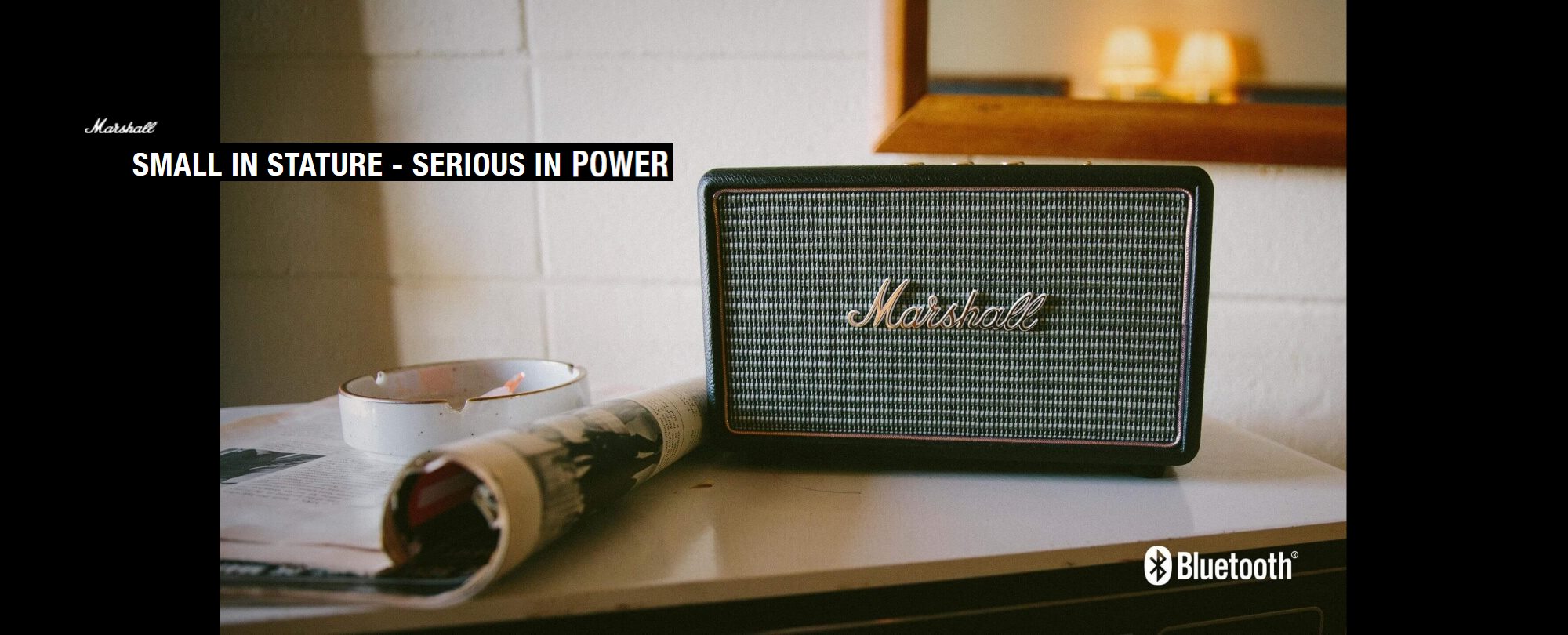 Features
The Most Compact Home Speaker From Marshall - Acton is the most compact home speaker from Marshall. It's the perfect size to bring music to your home's smallest spaces.
Powerful Sound - Acton features well-balanced audio that boasts powerful sound throughout the sound frequency. The clear midrange, extended highs and deep bass seem to defy the laws of nature for a speaker this small.
Customise Your Sound - Acton's top brass plate features controls for bass, treble and volume. The custom control analogue interaction knobs allow you to fine-tune to the exact sound you desire.
Classic Marshall Design - With its iconic gold script logo, gold piping, vinyl casing and vintage-inspired fret, the Acton is an instant rock 'n' roll classic. Its devilish good looks draw inspiration from over 50 years of Marshall design.
Bluetooth Connectivity - Use your Bluetooth enabled smartphone, tablet or computer to stream music directly to your Acton with no wires attached.
3.5mm Input & Double Ended Cable - Inspired by the golden days of rock'n'roll, this coiled double-ended stereo cable with two 3.5mm plugs is a modern take on the classic telephone guitar cord cable. Kink-free and extendable, it's your music device's connection to a world of great sound.
Specifications
| | |
| --- | --- |
| Power Amplifiers | One 30 Watt Class D amplifier for the woofer |
| Power Amplifiers | Two 10 Watt Class D amplifiers for the tweeters |
| Tweeters | 2 x ¾″ Dome tweeters |
| Woofer | One 4″ Mid woofer |
| Cabinet Principle | Bass-reflex |
| Maximum Sound Pressure Level | 103 dB @ 1 m |
| Frequency Range | 50 - 20,000 Hz |
| Adjustable Bass and Treble Controls | Fine tune your music using the analogue controls on your speaker |
| Stereo/mono | Stereo |
| Wireless Connectivity Bluetooth | v4.0 |
| Wired Connectivity | 3.5 mm Input |
| Top Panel Controls | Bass control knob |
| Top Panel Controls | On/Off toggle switch |
| Top Panel Controls | Pair button |
| Top Panel Controls | Source/Wake button |
| Top Panel Controls | Treble control knob |
| Top Panel Controls | Volume control knob |
| Dimensions | 265 x 160 x 150 mm / 10.45 x 6.3 x 5.9 in |
| Weight | 3 kg / 6.60 lb |
| Colourways | Black / Cream |
| Mains Input Voltage | 100 - 240 V |
| Mains Frequency | 50 - 60 Hz |
Be the first to review this product
© 2014 - 2018 Futurama.co.za - A Division of Ultranexus (Pty) Ltd | All Rights Reserved | Company Registration No: K2011/114945/07 | VAT No: 4390263624