Details
Description
The Nitecore NU30 Headlamp, a high performance rechargeable headlamp with up to 121 meter beam distance and 400 lumen brightness.
The lightweight, comfortable, cost effective NU30 is a fantastic all purpose headlamp with a high capacity built in 1800Mah li-ion battery and USB recharge. The output is sustainable on 180 Lumens for well over 20 hours or short bursts of 400 Lumens TURBO is available when needed. This awesome little number features a main white LED for distance or secondary white LEDs for close range flood and even RED LEDs for night time illumination. A handy feature is that the Headlamp can output light while being on charge.

The NU30 is dust and water resistant IP67 and impact resisitant to 1m. Featuring 60 degree tilting, 4 brightness levels; ultralow, mid, high and turbo and 2 special modes; SOS / Beacon as well as red light. The Precision Digital Optics Technology provides great reflector performance, increasing beam concentration with a smooth centre spot.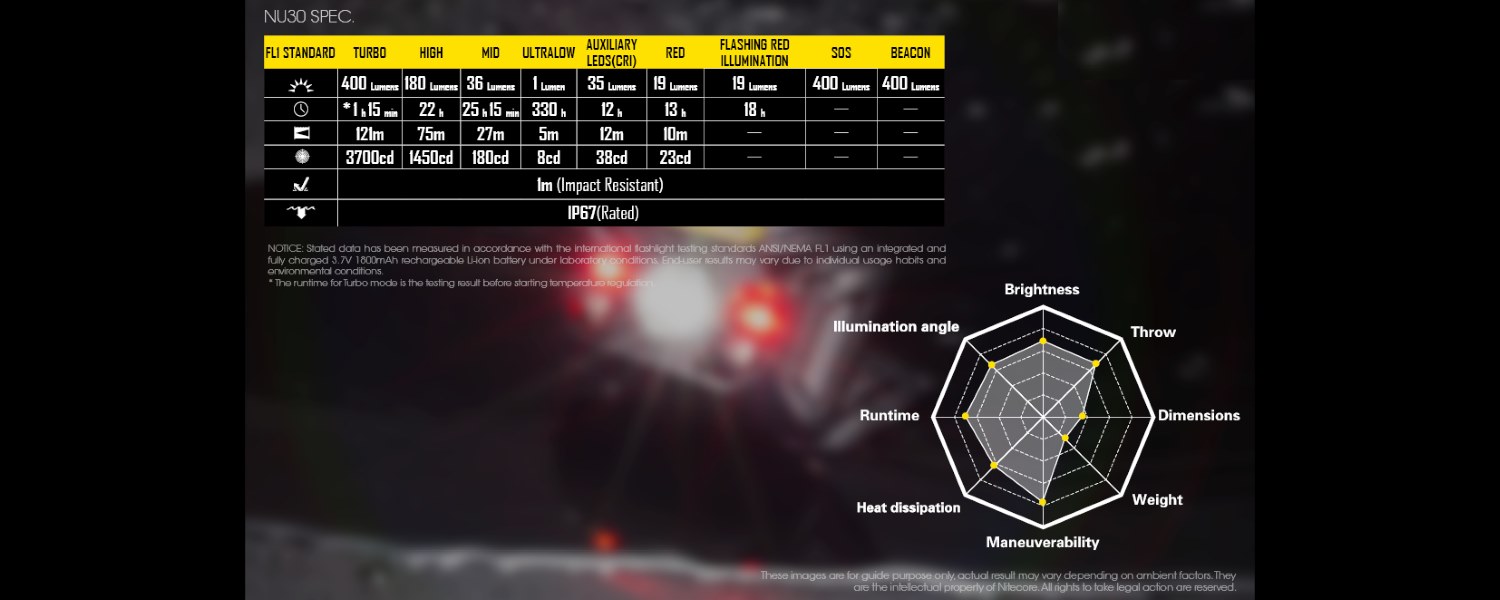 Features
With USB Charging Cable
CREE XP-G2 S3 LED
Precision Digital Optics Technology
4 brightness levels
2 special modes
Maximum 400 lumens
Up to 121 beam distance
3700cd beam intensity
Built-in 6.66wh rechargeable Li-ion battery
Up to 330 hour maximum runtime
Built-in power indicator
Mutiple light sources to handle differnet enviroments
60 degree tilting
Daul-switch
Impact resistant to 1 meter
Dust & waterproof IP67
Specifications
| | |
| --- | --- |
| Max Output | 400 lumens |
| Max Beam Distance | 121 m |
| Max Beam | Intensity 3700 cd |
| Max Runtime | 330 h 0 m / 13.75 d |
| | CREE XP-G2 S3 LED |
| Reflector | SMO |
| Battery | Rechargeable Li-ion |
| Special Modes | Location Beacon , SOS |
| | White light , High CRI , Auxiliary Red Light |
| Length | 63 mm |
| Head Size | 63 mm |
| Weight | 84.8 g |
| | Rechargeable |
| Activity | Outdoor / Camping |
Be the first to review this product
© 2013 - 2019 Futurama.co.za - A Division of Ultranexus (Pty) Ltd | All Rights Reserved | Company Registration No: K2011/114945/07 | VAT No: 4390263624