Details
Description
The Pulsar Accolade XQ38 Thermal Imaging Binoculars embrace a wide range of professional and semi-professional applications from hunting and scouting to law enforcement and life rescue. Hunters looking for animals in the woods, outdoor enthusiasts willing to protect camping site at night, law enforcement professionals seizing criminals and rescue teams searching for survivors or lost people all will be pleased with potential of new Accolade series.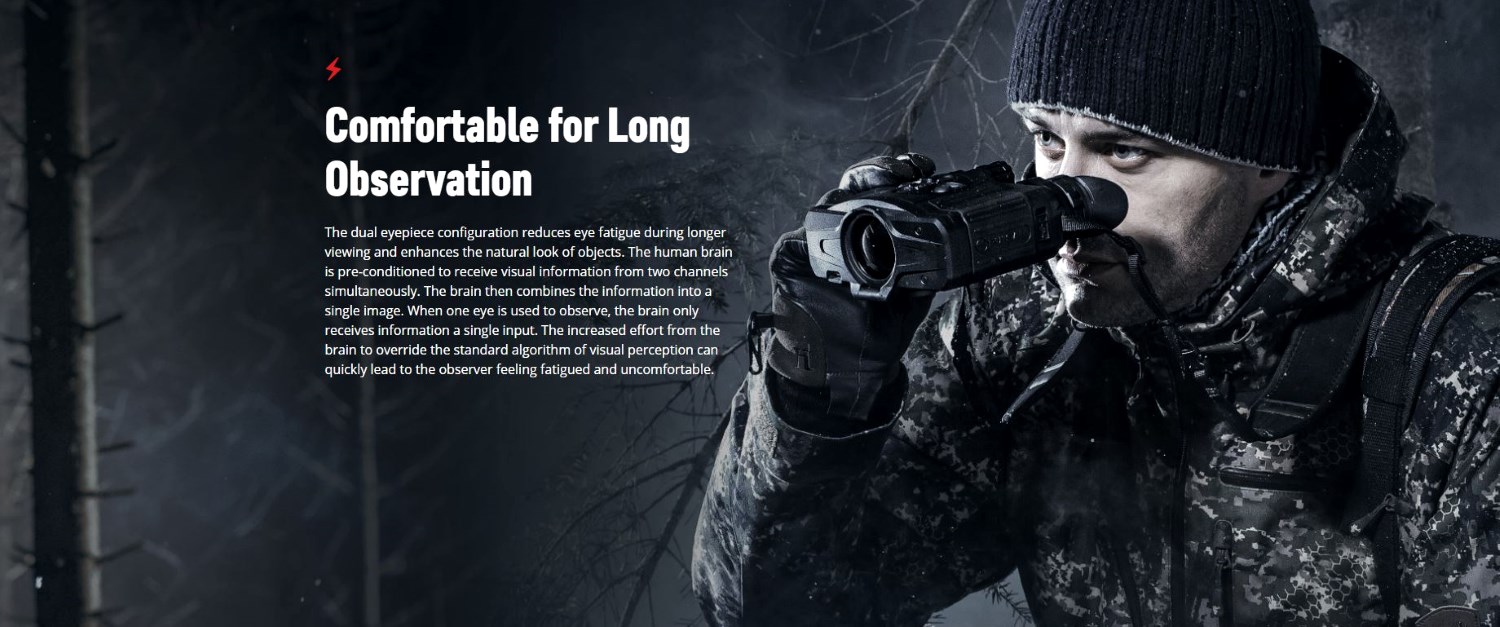 The dual eyepiece configuration reduces eye fatigue during longer viewing and enhances the natural look of objects. The human brain is pre-conditioned to receive visual information from two channels simultaneously. The brain then combines the information into a single image. When one eye is used to observe, the brain only receives information a single input. The increased effort from the brain to override the standard algorithm of visual perception can quickly lead to the observer feeling fatigued and uncomfortable.
Detecting objects at long distances is an important feature for optics users in outdoor environments. Optic quality and the best thermal imaging sensor available make a unique combination designed to deliver the longest detection range possible. The ability to adjust the distance between eyepieces allows the user to best position the optic for individual needs. Interpupillary distance differs from person to person. Adjusting for individual fit dramatically improves viewing comfort and quality, and eliminates the potential for double-imaging.
The 8-colour palette enhances viewing in varying conditions. While the classic "White Hot" mode is exceptionally versatile, "Hot Black" is often favored for detecting wildlife at night. Red monochrome helps to reduce or prevent bright backlight from exiting the eyepiece. Sepia often improves long-range observation while "Red Hot", "Rainbow" and "Ultramarine" enhance temperature differences of various object attributes. Violet helps to identify objects faster.
The built-in video recorder is a great asset when it comes to filming or taking photos of once-in-a-lifetime experiences. One press of the REC button captures footage that can be shared easily with colleagues, friends and family. The high 640x480 pixel resolution ensures all objects within the field of view have the highest level of detail. High sensor resolution makes the smallest objects, i.e. branches, leaves, body extremities of an animal, appear exceptionally crisp and clear against the background.
Rain, snow, fog, high waves or waterways, the IPX7 waterproof rating ensures the device won't fail in even the toughest wet weather conditions. The IPX7 rating means the device has been manufactured and rigorously tested to withstand extreme natural weather conditions, even submersion to a depth of 1 meter for up to 30 minutes.
The device's innovative battery-release mechanism ensures fast, flawless battery changes. Rechargeable IPS5 battery packs provide up to 8 hours of continuous operation in Wi-Fi mode.
Features
Comfortable for Long Observation
Long Detection Range
Variable Interpupillary Distance
Built-in Video Recorder
Fully Waterproof IPX7
High-Resolution

384x288

Thermal Imaging Sensor
Quick-Change Long-Life Rechargeable Battery Packs
8-Colour palette enhances viewing in varying conditions
Smooth and incremental digital zoom
High refresh rate 50 Hz
"Picture-in-Picture" mode
Observation modes
Effective temperature stabilization of the sensor
Stadiametric rangefinder
Built-in Wi-Fi module
Manual Contrast and Brightness Adjustment
Calibration modes (Non-uniformity correction)
Live internet video sharing
Frost resistant AMOLED display
External power supply
Updatable Software
Display Off
Specifications
| | |
| --- | --- |
| | |
| | |
| | |
| | |
| | |
| | |
| | |
| | |
| | |
| | |
| Field of View (HxV), degrees / m @ 100 m | |
| Interpupillary Distance Adjustment, mm | |
| | |
| | |
| | |
| Video / Photo Resolution, Pixel | |
| | |
| | |
| | 150 min video or ˃10 000 pictures |
| Degree of Protection, IP Code (IEC60529) | |
| Operating Temperature Range | |
| | |
| | |
| | |
| | |
| | |
| Operating Time on Battery Pack (at t=22°C), h * | |
| | |
| | |
| | |
| Line-of-Sight Reception Range, m | |
Be the first to review this product
© 2013 - 2019 Futurama.co.za - A Division of Ultranexus (Pty) Ltd | All Rights Reserved | Company Registration No: K2011/114945/07 | VAT No: 4390263624