Details

Description
The Sony Alpha a6000 Mirrorless Digital Camera is versatile and advanced featuring a 24.3MP APS-C-sized Exmor APS HD CMOS sensor and BIONZ X image processor to produce high-resolution still images and Full HD movies with marked low-light quality and sensitivity to ISO 25600. Beyond noteworthy imaging traits, the image processor lends itself to continuous shooting up to 11 fps and intelligent Fast Hybrid AF system useing both phase and contrast detection methods to accurately and quickly acquire focus.
A large rear monitor and detailed electronic viewfinder are available for live view monitoring, image playback and menu navigation. The 3.0" 921k-dot XtraFine LCD screen features a tilting design to facilitate easier use from both high and low angles and incorporates WhiteMagic technology for easier viewing in bright conditions. The 0.39" 1,440k-dot Tru-Finder OLED EVF offers 100% frame coverage and a refined optical design to provide a natural viewing perspective and magnification. The design of the a6000 body houses a configurable user interface, built around several customizable buttons and two control dials, for efficient and intuitive access to frequently used camera settings. A Multi-Interface shoe is available for attaching microphones, continuous lights, or external flashes.
Built-in Wi-Fi connectivity, with support for NFC-enabled devices, is integrated to support remote camera control and image sharing to linked mobile devices. As Well as these base features, firmware version 2.0 users will have access to the XAVC S format for Full HD 1080p video at 24, 30, and 60 fps. This format dramatically improves video quality by allowing the capture of images at a high bit rate of 50 Mbps, holding more information than AVCHD for fewer artifacts. Along with this, users will be required to use Class 10 or faster SDXC memory cards with a capacity of 64GB or greater.
24.3MP Exmor APS HD CMOS Sensor and BIONZ X Image Processor
The 24.3MP APS-C-sized Exmor APS HD CMOS sensor and BIONZ X image processor work in unison to create high resolution, well-detailed images with minimal noise and notable low-light quality and sensitivity to ISO 25600. The sensor utilizes a gapless on-chip lens design, filling the gaps between neighboring pixels with optimized lenses that match the angle of incidence to increase light gathering ability and produce edge-to-edge sharpness and quality. The processor contributes to providing a wealth of speed throughout the camera system, including Fast Hybrid AF, a top continuous shooting rate of 11 fps, and Full HD 1080i/p video recording in multiple frame rates.

Fast Hybrid AF System
The Fast Hybrid AF system utilizes both a 179-point phase-detection system and 25-point contrast-detection system to achieve precise focus in as little as 0.06 sec. Utilizing a Spatial Object Detection algorithm, the fast focusing system first employs the phase-detection AF points to speedily bring the subject into focus and then uses the contrast-detection AF points, with wide AF coverage, to fine-tune the sharpness for ensured accuracy. Beyond supporting single shot modes, this system provides AF tracking when shooting up to 11 fps in continuous high mode and functions seamlessly when recording Full HD movies.
For more refinement, a series of distinct AF modes can be selected from depending on the subject. Eye AF is a detail-oriented focusing function that can prioritize a subject's pupil and dedicate focusing performance on that for sharply-rendered portraits; Lock-on AF is a dedicated focusing method for use with moving subjects and adjusts the target frame size as the subject moves throughout the image frame; AF area settings enables prioritization of specific regions within the frame for increased accuracy; and AF-A (Automatic AF), AF-S (Single-shot AF), AF-C (Continuous AF), DMF (Direct Manual Focus), and Manual Focus modes can also be chosen.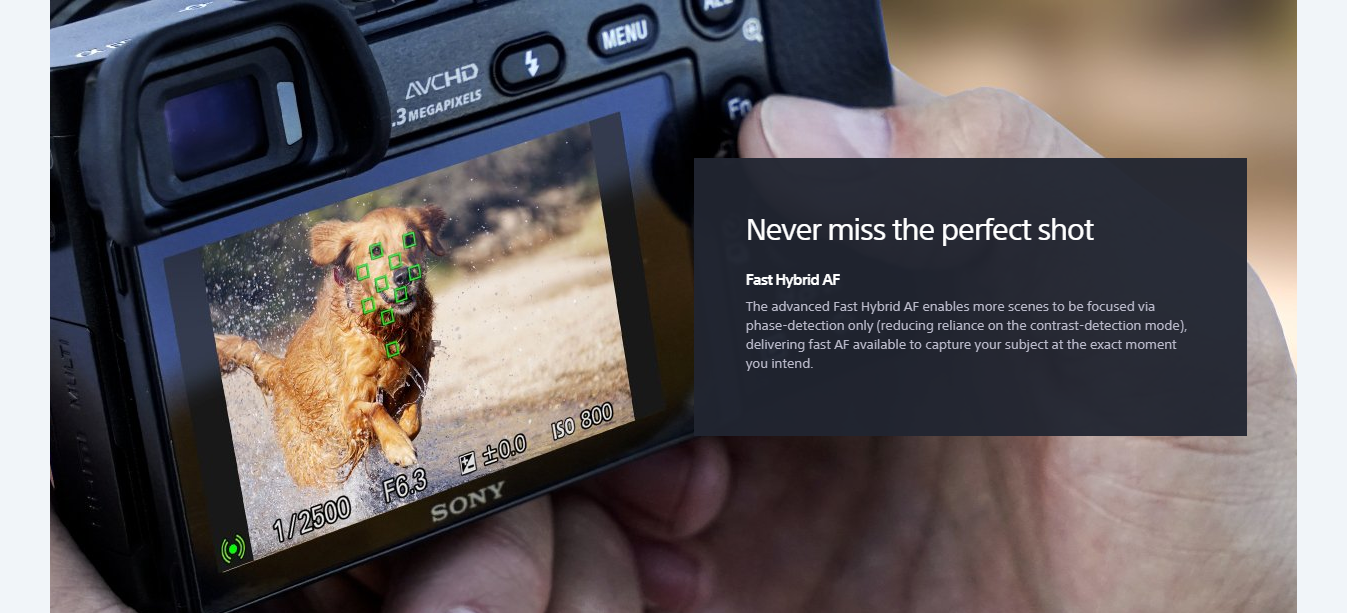 Full HD Video Recording
Full HD 1080p video recording is supported at 60, 30, and 24 fps in the high- quality 50 Mbps XAVC S codec. Other recording options include the ability to utilize the AVCHD and MP4 codecs, with support for recording up to 1080p60 video at 28 Mbps. Dual video recording is supported, with the ability to select either XAVC S or AVCHD codecs plus a duplicate MP4 file to be recorded at the same time for better efficiency when sharing videos online. Using the integrated HDMI type D output, both 1080i60 and 1080p60 uncompressed 8-bit 4:2:2 video can be recorded to an optional external recorder.
Complementing the video capabilities of the a6000, a in-built stereo microphone incorporates into the design and records audio in the Linear PCM 2-channel format for XAVC S movies, the AC-3 Dolby Digital format for AVCHD movies, and the MPEG-4 AAC-LC format for web-quality MP4 videos. Manual focus peaking and zebra function are available, to benefit use in manual focus and to assure highlight detail is retained. A marker setting can be shown on the rear LCD as well, in order to display a center marker, guide frame, aspect marker, safety zone, and other features pertinent to video recording.
Body Design
With a compact and lightweight profile, the a6000 incorporates both an electronic viewfinder and a large rear LCD monitor. The Tru-Finder 0.39" 1,440k-dot OLED EVF features a refined optical system that integrates four double-sided aspherical elements to provide 100% frame coverage and a wide 33° viewing angle for clear edge-to-edge viewing. The the design of the electronic viewfinder provides true live view image, that is able to simulate the appearance of the finalized image prior to shooting and avails focusing aids, such as MF Assist and the Peaking function. The 3.0" 921k-dot rear Xtra Fine monitor is a larger alternative, suitable for creating accurate compositions, reviewing images, and navigating the menu system.
Featuring tilting design that can tilt upward approximately 90° or downward 45° to benefit use from high and low angles. WhiteMagic technology works to increase the overall brightness of the screen to better support use in bright or sunlit conditions.
Complementing the overall handling of the a6000 is a customizable user interface including a Fn function button and seven other buttons that can be adjusted depending upon user preferences and assigned to one of 47 different functions. Two top dials offer an intuitive means for selecting crucial camera settings in a deft manner. In-Built pop-up flash, featuring a guide number of 19.7' at ISO 100, is available for use in difficult lighting conditions and a Multi-Interface Shoe is available for attaching additional on-camera accessories,such as video lights, microphones and flashes.
Built-In Wi-Fi Connectivity
Built-In Wi-Fi connectivity enables the a6000 to instantly share images to mobile devices for direct sharing online to social networking, via email, and to cloud storage sites. NFC (Near Field Communication) is supported, enabling one-touch connection between the camera and compatible mobile devices; no complex set-up required. Once connected, the linked mobile device can also display a live view image on its screen and remotely control the camera's shutter.
PlayMemories Camera Apps are also supported via the built-in Wi-Fi connection, and allow you to personalize the camera's features depending on specific shooting styles. Apps are available to suit creating portraits, detailed close-ups, sports, time lapse, motion shot, and other specific types of imagery.
Other Camera Features
The Sony E-mount affords compatibility with an extensive amount of lenses and lens adapters. An advanced 1200-zone evaluative exposure metering sensor delivers consistent and accurate results using multi-segment, center-weighted, or spot metering modes.
Auto Object Framing: is an intelligent shooting mode that automatically analyzes the scene and subjects within and determine an aesthetically pleasing composition. The subsequent imagery will crop according to subject matter, resulting in well-balanced composition utilizing Face Detection and Tracking Focus to ensure high image quality and sharpness.
Clear Image Zoom: can be used to magnify the center of scenes by 2x to effectively extend the reach of any focal length lens. This digital zoom technology uses an intelligent interpolation process minimizing the amount of image degradation in order to produce realistic, high-quality images.
Picture Effect modes: allow you to apply creative settings and emphasize certain facets of individual images for a richer, more aesthetic picture quality. Posterization (Colour/B&W), Pop Colour, Retro Photo, Partial Colour (R/G/B/Y), High Contrast Monochrome, Toy Camera, Soft High-Key, Soft Focus, HDR Painting, Rich-Tone Monochrome, Miniature, Watercolour, and Illustration modes are available.
The Photo Creativity feature: provides quick access to Picture Effects as well as dedicated controls for adjusting Background Defocus, Brightness, Colour, and Vividness. Additionally, these effects can be combined for nearly limitless adjustment options. Superior Auto mode: is an intelligent automated setting that can quickly identify the current shooting environment and adjust crucial camera settings to deliver optimized results. This mode utilizes Auto HDR and Hand-held Twilight modes, using image compositing techniques to better handle difficult lighting conditions.
Anti-Motion Blur: automatically corrects for subject movement in order to deliver clean, sharp images in low-light conditions. This is accomplished by recording six sequential frames and compositing portions of each image to ensure overall sharpness. Hand-held Twilight Mode: automatically composites details from six sequentially-recorded images in order to attain higher overall image sharpness when working in low-light conditions.
Multi Frame NR: records consecutive images at a reduced ISO sensitivity and then composites them into a single image to realize higher effective sensitivity with minimal image noise.
Dynamic Range Optimizer (DRO): works to improve images featuring backlit subjects or scenes with high contrast where details can be lost in the shadows or highlights. This mode can be controlled automatically or fine-tuned using five settings.
Auto HDR: automatically records three sequential frames of an image and composites them into a single frame to realize greater shadow and highlight detail with an extended range of mid-tones.
Creative Style settings: provide control over how the camera processes images based on six different predetermined styles:
Standard, Vivid, Portrait, Landscape, Sunset, and B&W. Within these settings, contrast, saturation, and sharpness can also be adjusted depending on personal preference. In-camera creation of 4K slide shows: is possible for rich playback to ultra high definition televisions.
An HDMI port is incorporated into the camera's design, too, to enable direct connection to HDTVs.
TRILUMINOS Colour support: afforded by the a6000 to produce rich, natural colours when images are viewed on a TRILUMINOS Display.
Convenient USB charging: allows you to charge the included lithium-ion battery in-camera via USB connection from either an AC outlet or PC source.
Compatible Media
SD, SDHC, SDXC, Memory Stick PRO Duo, Memory Stick PRO-HG Duo, Memory Stick XC-HG Duo memory cards Sony 16-50mm f/3.5-5.6 OSS Retractable Zoom Lens The included black 16-50mm f/3.5-5.6 OSS Retractable Zoom Lens provides a 35mm-equivalent focal length range of 24-75mm, covering wide-angle to portrait-length perspectives to suit working in a wide variety of situations.
E PZ 16-50mm f/3.5-5.6 OSS Lens
The included E PZ 16-50mm f/3.5-5.6 OSS lens provides a 24-75mm equivalent focal length range, covering wide-angle to portrait-length perspectives to suit a wide variety of situations. Featuring Optical SteadyShot image stabilization to help minimize appearance of camera shake by up to 4 shutter speed steps to greatly improve working in low light conditions with greater zoom magnifications. One extra-low dispersion element and four aspherical elements are integrated into the optical construction to better reduce chromatic aberrations as well as increase clarity, sharpness andcontrast. The Power Zoom electronically-driven zoom mechanism brings better efficiency in controlling the zoom position of the lens.
Sony E 55-210mm f/4.5-6.3 OSS Lens
An ideal complement to many kit zooms, Sony's E 55-210mm f/4.5-6.3 OSS Lens opens the door to many telephoto perspectives with its 82.5-315mm equivalent focal length range on APS-C-format E-mount cameras. With optical design with two extra-low dispersion elements and two aspherical elements users will enjoy images with minimal aberrations. Due to Optical SteadyShot image stabilization, camera shake is dramatically reduced, creating sharper images. Internal focus design ensures fast, responsive AF and a minimum focus distance of 3.3'. It has a seven-blade circular diaphragm for smooth, rounded bokeh photography.
Designed for APS-C-format cameras, this 55-210mm lens perfectly complements many kit zooms by providing an 82.5-315mm equivalent focal length range for telephoto applications.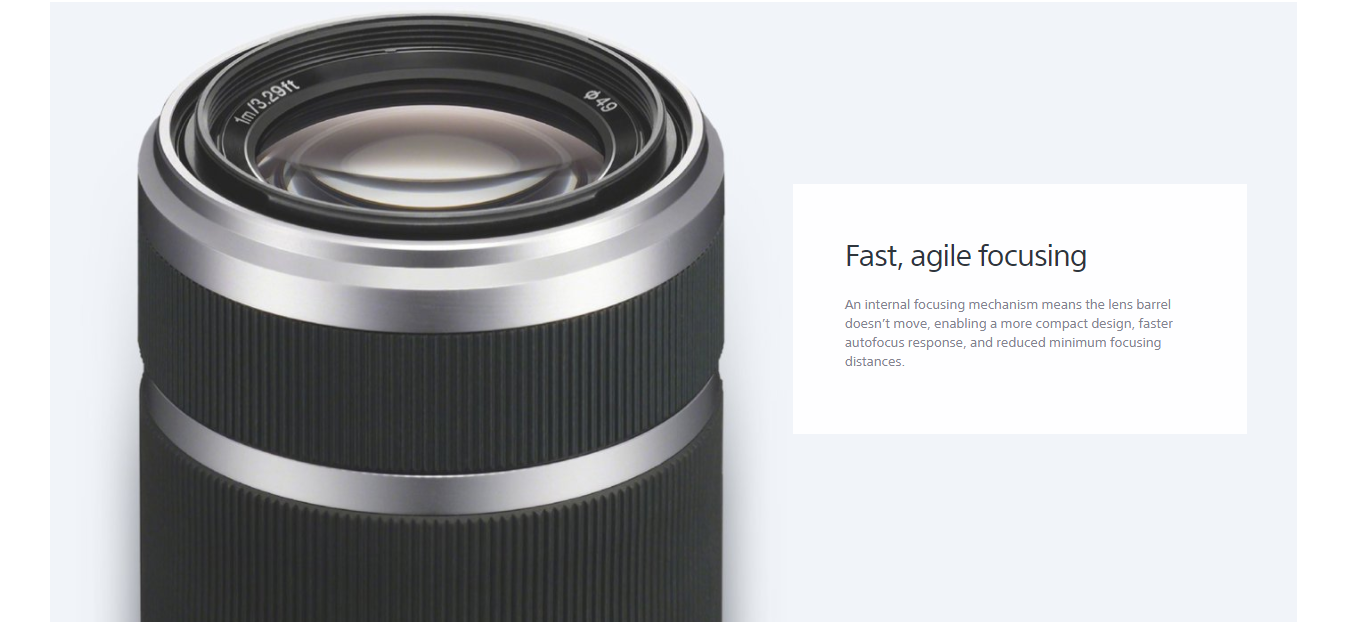 Variable f/4.5-6.3 maximum aperture keeps overall lens size and weight to a minimum. Two extra-low dispersion glass elements in the lens design to help reduce chromatic aberrations and colour fringing for improved clarity and colour neutrality. Two aspherical elements incorporated in the lens design to reduce astigmatism, field curvature, coma, and other monochromatic aberrations.
Optical SteadyShot image stabilization limits the appearance of camera shake for sharper images when shooting handheld with slower shutter speeds. The stabilization system can be combined with select camera's sensor-shift type image stabilization creating more effective control of camera blur.
Internal focus mechanism contributes faster, more responsive autofocus, the minimum focus distance of 3.3', easier handling as the lens does not change in length while in use. Rounded seven-blade diaphragm contributes to pleasing bokeh photo quality when using selective focus techniques.

Features
24.3MP APS-C Exmor APS HD CMOS Sensor
BIONZ X Image Processor
Tru-Finder 0.39" 1,440k-Dot OLED EVF
3.0" 921k-Dot Xtra Fine Tilting LCD
Full HD 1080p XAVC S Video at 24/60 fps
In-Built Wi-Fi Connectivity with NFC
Fast Hybrid AF & 179 Phase-Detect Points
Up to 11 fps Shooting and ISO 25600
Multi-Interface Shoe and Built-In Flash
Sony 16-50mm f/3.5-5.6 OSS Zoom Lens0
Specifications
| | |
| --- | --- |
| Lens Mount | Sony E-Mount |
| Camera Format | APS-C (1.5x Crop Factor) |
| Pixels | Actual: 24.7 Megapixel |
| | Effective: 24.3 Megapixel |
| Max Resolution | 24 MP: 6000 x 4000 |
| Aspect Ratio | 3:2 |
| Sensor Type / Size | CMOS, 23.5 x 15.6 mm |
| File Formats | Still Images: JPEG, RAW |
| | Movies: MP4, MPEG-4 AVC/H.264 |
| Dust Reduction System | Yes |
| Memory Card Type | SD |
| | SDHC |
| | SDXC |
| | Memory Stick Pro Duo |
| | Memory Stick PRO HG-Duo |
| Autofocus | Yes |
| Tripod Collar | No |
| Filter Thread | Front: 40.5 mm |
| Dimensions (DxL) | Approx. 2.55 x 1.18" (64.7 x 29.9 mm) |
| Weight | 4.09 oz (116 g) |
| Focus Type | Auto & Manual |
| Focus Mode | Automatic (A), Single-servo AF (S), Continuous-Servo AF (C), Manual Focus (M), Direct Manual Focus (DMF) |
| Autofocus Points | Phase Detection: 179 |
| | Contrast Detection: 25 |
| Viewfinder Type | Electronic |
| Viewfinder Size | 0.39" |
| Viewfinder Eye Point | 23.00 mm |
| Viewfinder Coverage | 100% |
| Viewfinder Magnification | Approx. 1.07x |
| Diopter Adjustment | -4 to +3 m |
| Display Screen | 3" Widescreen Tilting LCD (921,600) |
| Screen Coverage | 100% |
| ISO Sensitivity | Auto, 100-25600 |
| Shutter | Type: Electronic & Mechanical |
| | Speed: 30 Second , Bulb Mode |
| | Type: Mechanical |
| | Speed: in Movie Mode |
| Remote Control | RM-DSLR2 (Optional) |
| Metering Method | Center-Weighted Average Metering, Multi-Zone Metering, Spot Metering |
| Exposure Modes | Modes: Programmed Auto, Manual, Aperture Priority, Sweep Panorama, Scene Selection, Movie, Memory Recall, Superior Auto, Shutter Priority, Intelligent Auto |
| | Metering Range: EV 0.0 - EV 20.0 |
| | Compensation: -5 EV to +5 EV (in 1/3 or 1/2 EV Steps) |
| White Balance Modes | Fluorescent (Cool White), Cloudy, Fluorescent (Daylight), Fluorescent (Day White), Colour Temperature Filter, Fluorescent (Warm White), Custom, Incandescent, Underwater, Daylight, Flash, Colour Temperature, Shade, Auto |
| Buffer/Continuous Shooting | Up to 11 fps for up to Frames |
| | Up to 6 fps for up to Frames |
| | Up to 2.5 fps for up to Frames |
| Flash Modes | Red-Eye Reduction |
| | Fill-In |
| | Off |
| | Slow Sync |
| | Rear Sync |
| | Auto |
| | Wireless |
| Built-in Flash | Yes |
| Guide No. | 19.69' (6 m) ISO100 |
| Max Sync Speed | 1 / 160 Second |
| Flash Compensation | -3 EV to +3 EV (in 1/3 or 1/2 EV steps) |
| Dedicated Flash System | TTL |
| External Flash Connection | Hot Shoe, Wireless |
| Shutter Lag | 0.02 seconds |
| Self Timer | 10 Seconds, 2 Seconds |
| Connectivity | HDMI D (Micro), USB 2.0, Wired Remote Port |
| Wi-Fi Capable | Yes |
| Software System Requirements | Windows: Vista (SP2), 7 (SP1), 8 |
| | Mac: OS X 10.6, 10.7, 10.8 |
| Battery | 1 x NP-FW50 Rechargeable Lithium-Ion Battery Pack, 7.2 VDC, 1080 mAh |
| Dimensions (W x H x D) | 4.7 x 2.6 x 1.8" / 120.0 x 67.0 x 45.0 mm |
| Weight | 12.13 oz / 344 g with battery and memory card |
| | |
| Sony E PZ 16-50mm OSS lens | |
| Focal Length | 16 - 50mm |
| | Comparable 35mm Focal Length: 24 - 75 mm |
| Aperture | Maximum: f/3.5 - 5.6 |
| | Minimum: f/22 - 36 |
| Camera Mount Type | Sony E |
| Format Compatibility | APS-C |
| Angle of View | 83° - 32° |
| Minimum Focus Distance | 9.84" (25 cm) |
| Magnification | 0.215x |
| Maximum Reproduction Ratio | 1:4.7 |
| Elements/Groups | 9 / 8 |
| Diaphragm Blades | 7, Rounded |
| Features | |
| Image Stabilization | Yes |
| Autofocus | Yes |
| Tripod Collar | No |
| Physical | |
| Filter Thread | Front: 40.5 mm |
| Dimensions (DxL) | Approx. 2.55 x 1.18" (64.7 x 29.9 mm) |
| Weight | 4.09 oz (116 g) |
| | |
| Sony E 55-210mm f/4.5-6.3 OSS Lens | |
| Focal Length | 55 - 210mm |
| | Comparable 35mm Focal Length: 82.5 - 315 mm |
| Aperture | Maximum: f/4.5 - 6.3 |
| | Minimum: f/22 - 32 |
| Camera Mount Type | Sony E |
| Format Compatibility | APS-C |
| Angle of View | 29° - 7° 40' |
| Minimum Focus Distance | 3.28' (1.00 m) |
| Magnification | 0.225x |
| Maximum Reproduction Ratio | 1:4.44 |
| Elements/Groups | 13 / 9 |
| Diaphragm Blades | 7, Rounded |
| mage Stabilization | Yes |
| Autofocus | Yes |
| Tripod Collar | No |
| Filter Thread | Front: 49 mm |
| Dimensions (DxL) | Approx. 2.51 x 4.25" (63.8 x 108 mm) |
| Weight | 12.17 oz (345 g) |
Be the first to review this product
© 2014 - 2018 Futurama.co.za - A Division of Ultranexus (Pty) Ltd | All Rights Reserved | Company Registration No: K2011/114945/07 | VAT No: 4390263624