About Us
---




Our Mission
Futurama is more than just another shop that wants to make money. We are a company on a mission.
Our mission is to create a company that exists to serve and benefit people through the products and services that we offer, and along the way create social, economic and environmental change.

Right now, we are working hard to turn Futurama into a world-leading store that provides customers with the best possible prices on products, expert advice on what to buy, and outstanding customer service. Your support will help to make this vision a reality, and we welcome you to join us on our journey to the future.

We have exciting things planned for 2021, that will allow us to have a direct environmental impact. Stay tuned!



Key Focus Areas
Environmental Protection
The destruction of the natural environment, wildlife and plant biodiversity is unacceptable and we must do everything we can to preserve it for future generations. Right now our precious Rhinos and Elephants are being slaughtered by people that feel nothing for the natural world and only care about money. A big part of our business is supplying night vision and security equipment to anti-poaching units and game reserves so that they can help protect our endangered wildlife.
Sustainable Agriculture
By 2050 there will be 10 Billion people on Earth. Feeding all these people is a major challenge for sustainability. Increasing food production without increasing land usage is an essential part of the solution. Hydroponic and indoor farming is one way to achieve this. We are promoting hydroponic food production and the usage of more efficient LED lighting for indoor cultivation.
Renewable Energy
Global warming is the No.1 threat that is facing humanity and all other life on Earth. Rising sea levels will displace millions of people and a changing climate will cause mass extinction of plants and animals due to their inability to relocate to new habitats. All of this is caused by our reliance on fossil fuels for transport and electricity generation. The only way to avert this impending global disaster is to switch to renewable energy right now. One way we can help do this is by facilitating the large-scale adoption of rooftop solar energy for homes and businesses. We are making rooftop solar systems available to people at the best possible price so that it is as easy as possible for you switch to solar power.



The Team
We have a young, dynamic and experienced team.
Michael Upton, Schalk Kruger, Richard Dixon, Ashley Jackson, Wayne van der Westhuizen, Emile Kriek, Tommy Kruger, Mark Black, Richard Larrett, Katie Keanly, Ashleigh Gossmann, Jason Snyman, Matthew Wolfaardt, Gavin Fourie, Estiaan Marais, Edon Loxton, Angus McHenry, Alex Power, Michael Kershaw, Kade Robinson, Brandon Schuttler, Meghan Swanepoel, Megan Latsky, Tahlia Geduld, Andre Theron, Cathy van der Westhuizen, Amber Steyn, Deidré van Staden, Savannah Swemmer, Hermann Rosenkranz, Salmaa Waggie, Donne Johnson, Gabriel Barnes, Zashka van der Walt, Lauren Gertz, Sharon Sibanda. We are experts
Our team is highly knowledgeable and can provide you with expert advice on what to buy.
We have a team that together have built up years of experience particularly in Optics, Night Vision, Outdoor products, Hydroponics and Aquaponics, Astronomy, Metal Detectors, Pet products, Solar Power products, Weather Stations, and much MUCH more.
We can help you find the right product for your purpose. We won't sell you something you don't need or that doesn't suit your requirements. For us, it is much more important to have happy customers.



Why the name Futurama?
When we originally started in 2013, our store was called Outdoor Depot and we only sold outdoor products. Outdoor is what we knew well, so it was a logical starting point for us. When we decided to expand our range of products we needed a new name and domain that would represent our focus on providing customers with the latest and best products and our ability to provide expert advice. After endless hours of brainstorming and checking the availability of domain names (almost everything is already taken) we finally decided on Futurama. We got the name from the cartoon TV show called Futurama and felt that it represented what we wanted to achieve perfectly. It combines the words "Future" with "rama" which means "spectacular display or instance of". We want to show and bring people the future.



Where is Futurama located?
Futurama is an online shop, and we have a physical store in Somerset West, Cape Town
(Please note that we only keep a small number of our products at our shop)
We courier our products anywhere in the country to a street address.
If you would like to arrange to pick up an item from our shop, please call us to arrange that this can be done.
Somerset Mall store:
Shop 4, The Flags@Circle 5 building
Cnr Centenary Dr and Reese Rd
Somerset Mall
Somerset West, Cape Town
7130


Outdoor Store: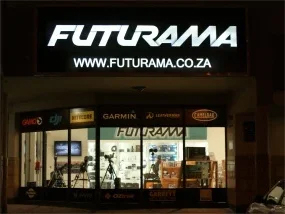 Grow Shop: Company Details
Futurama is a division of Ultranexus (Pty) Ltd and has been operational since 2013.
Registered company name: Ultranexus (Pty) Ltd
Company Registration no:K2011/114945/07
VAT no: 4390263624
Operational since:2013








© 2013 - 2021 Futurama.co.za - A Division of Ultranexus (Pty) Ltd | All Rights Reserved | Company Registration No: K2011/114945/07 | VAT No: 4390263624