Details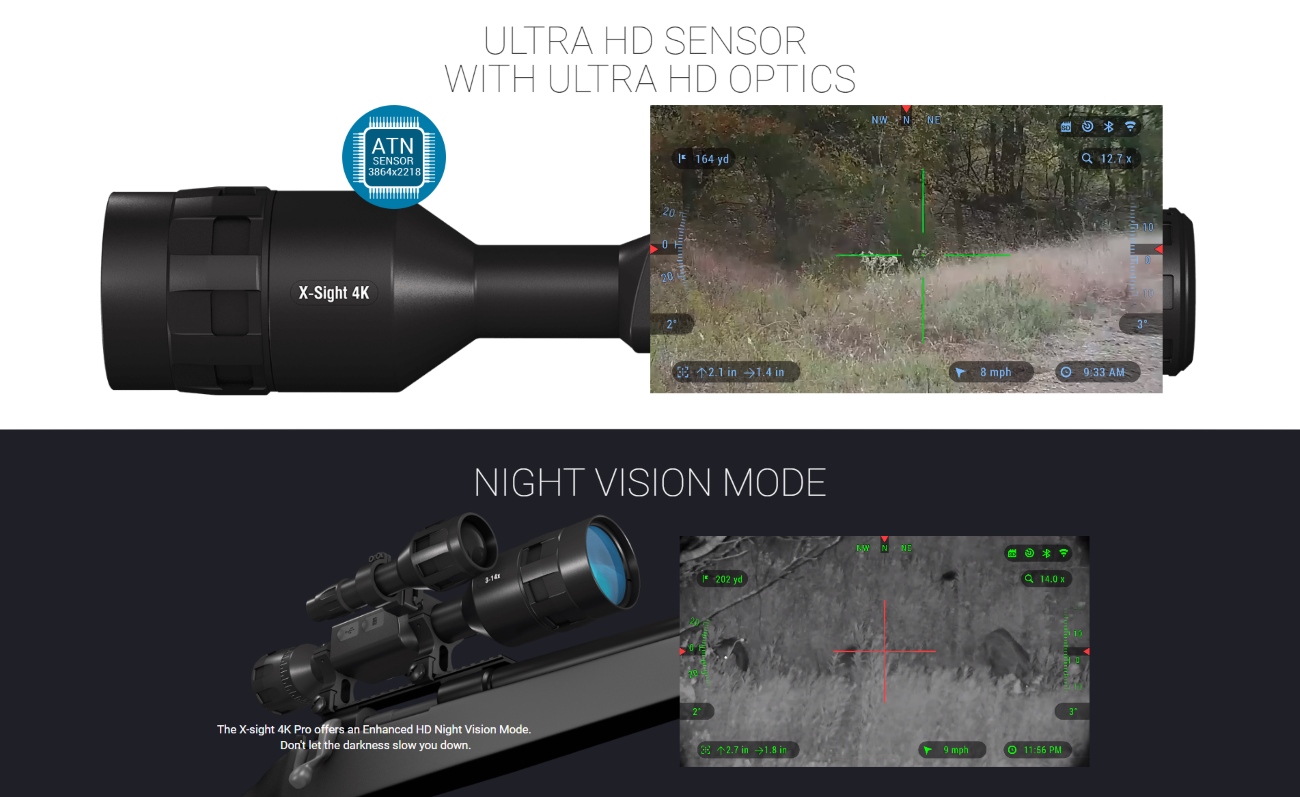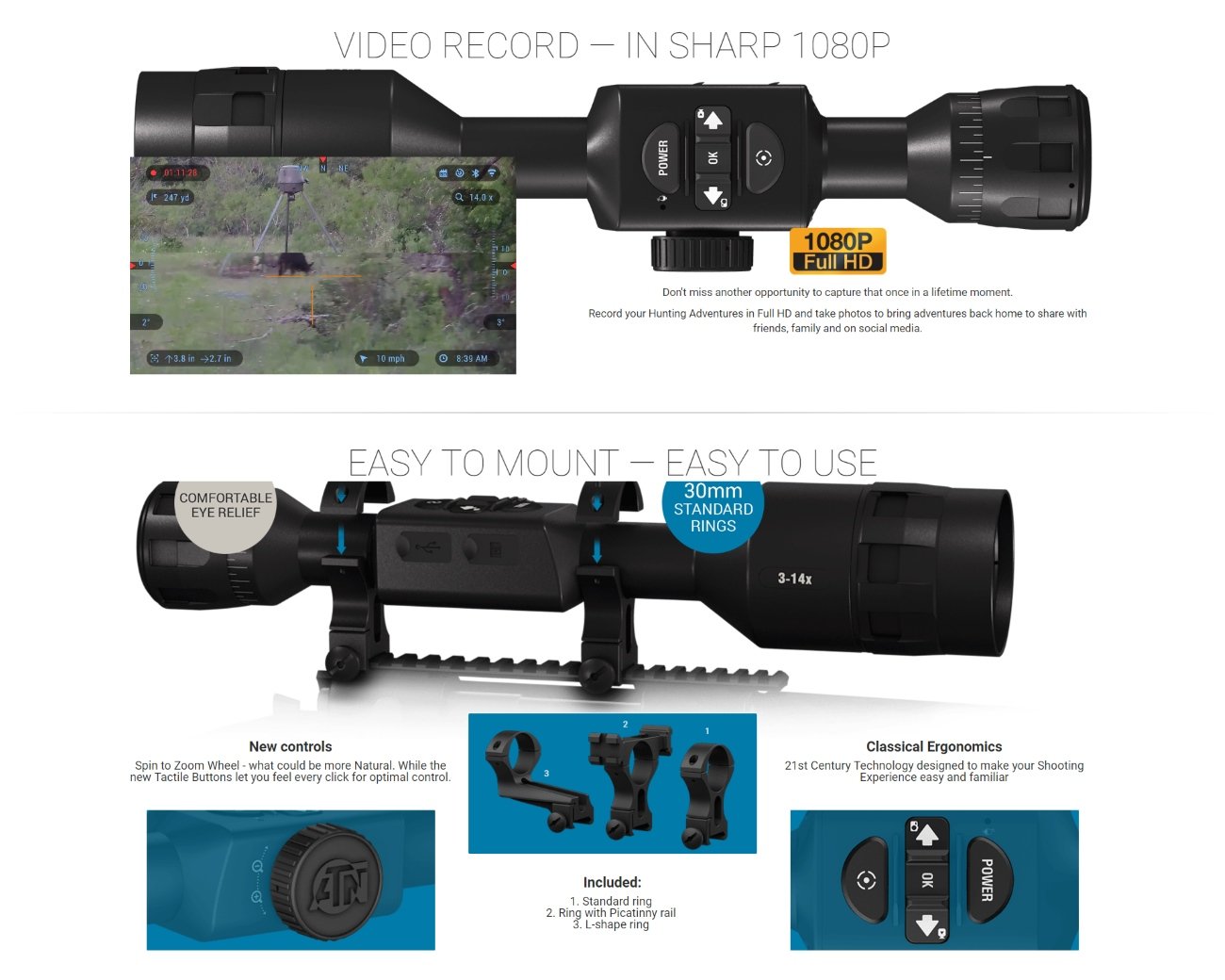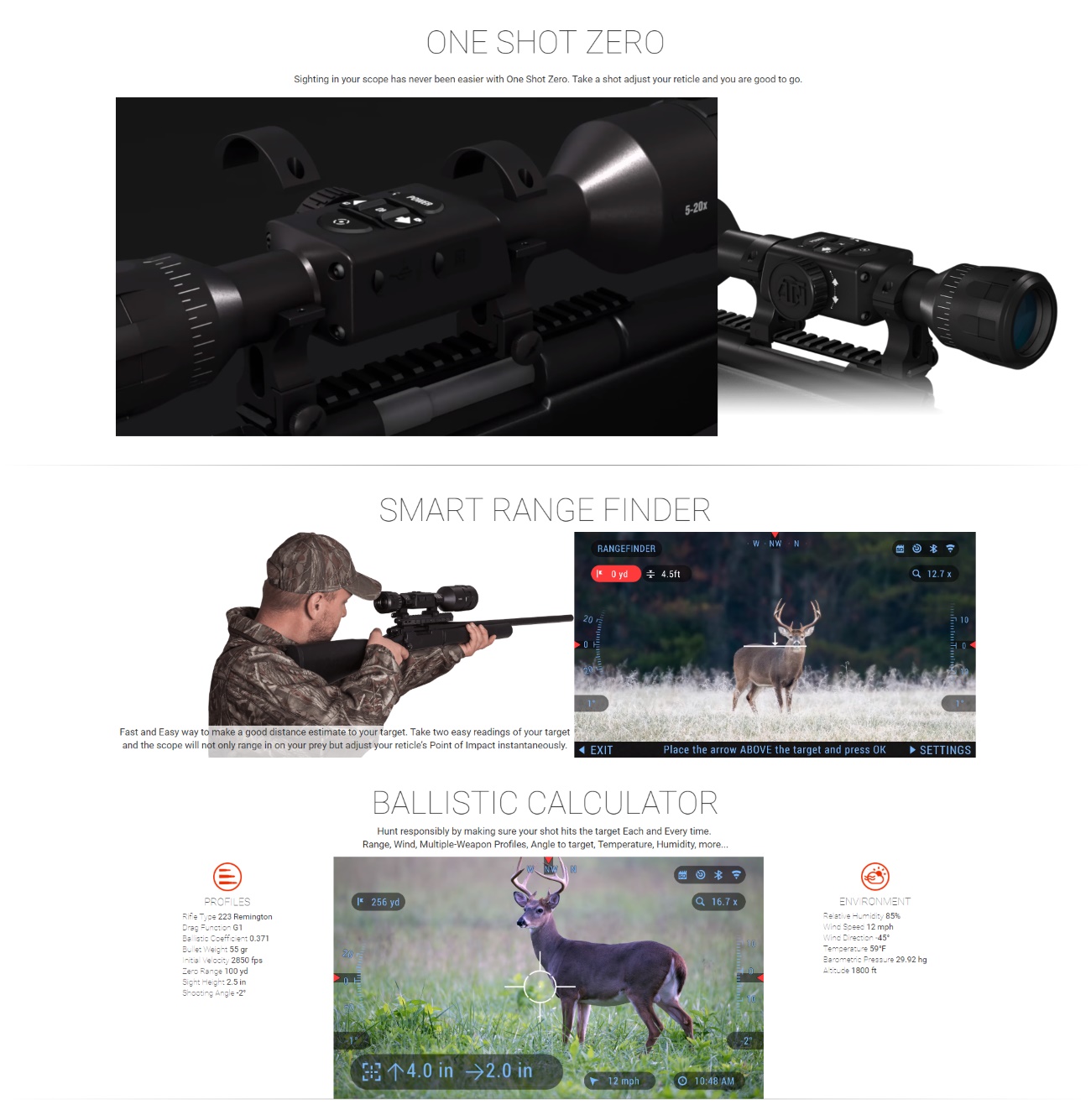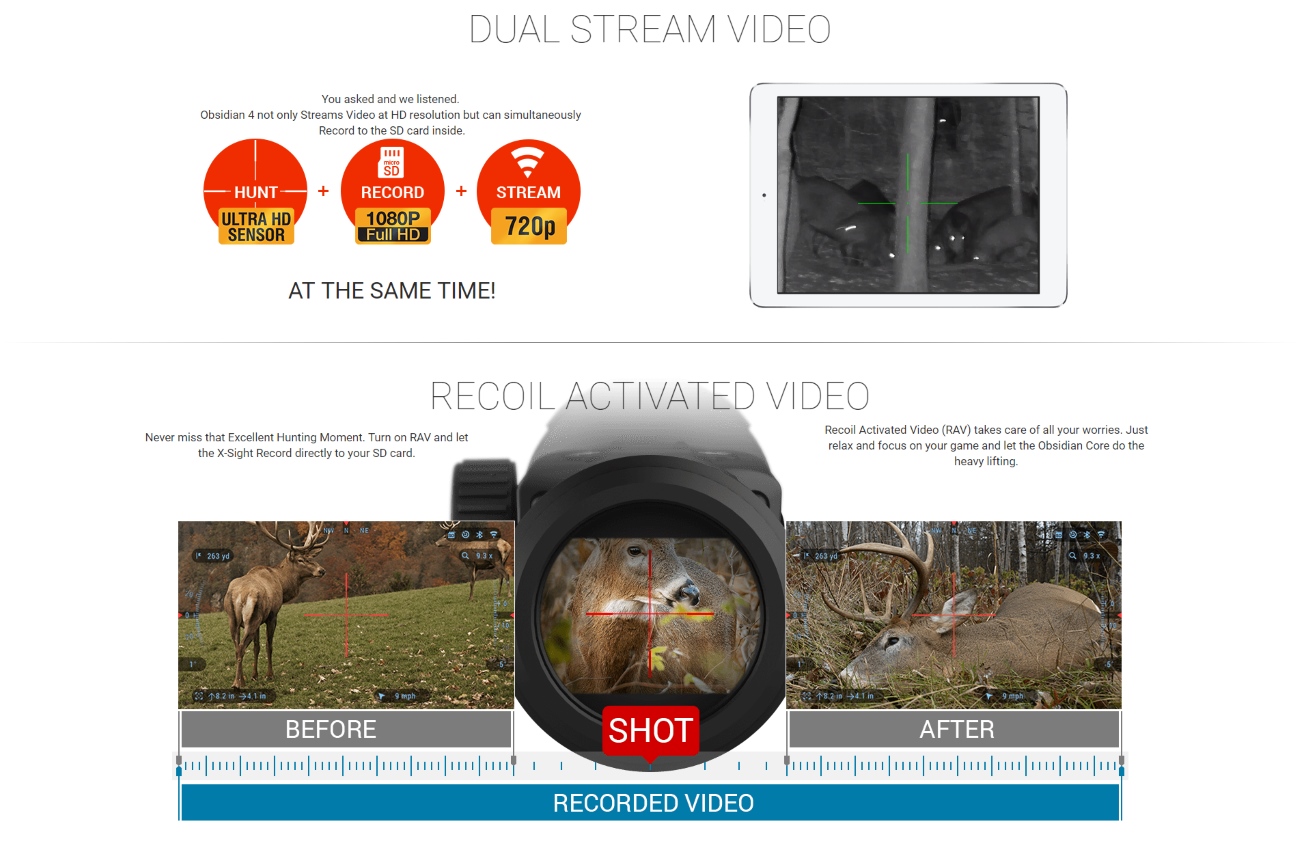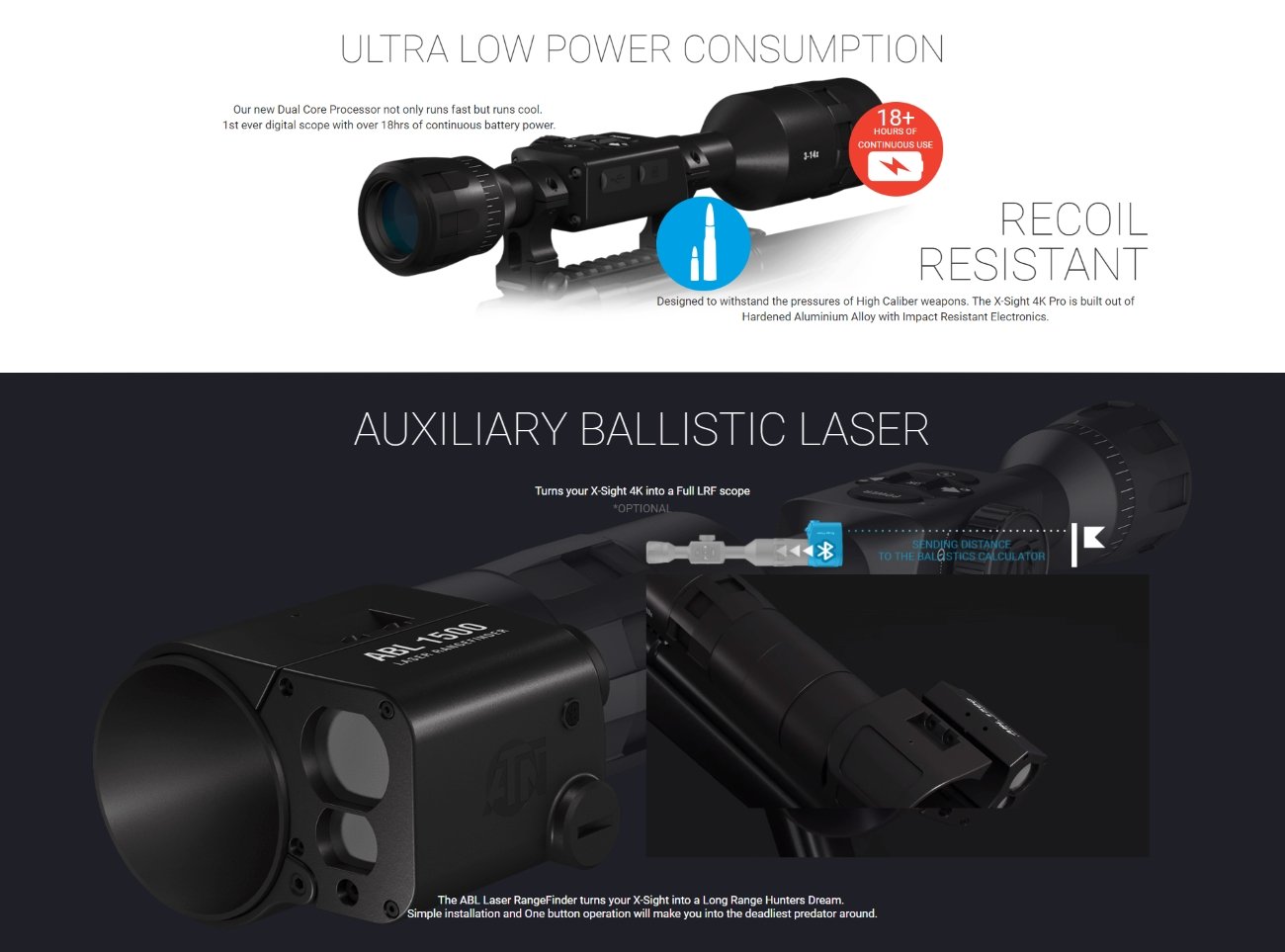 Description
The ATN X-Sight 4K Pro 5-20x Day/Night Vision Riflescope + Icarus Nova 5 IR Illuminator Combo is an ideal night vision set, with an enhanced HD night vision scope and high powered illuminated reticle (with an included Picatinny mount).
The ATN X-Sight 4K Pro 5-20x Day/Night Vision Rifle Scope is the latest addition to ATN's impressive lineup of riflescopes. Its Classic ergonomics makes using this 21st Century technology more familiar and easier to use. The One Shot Zero feature makes sighting in your scope easy and quick saving you valuable time and bullets, speaking of time what do you do when the sun goes down and you're still itching for that trophy kill? Do not fret, the X-sight 4K Pro offers an Enhanced HD Night Vision Mode giving you clear precise vision in low light situations giving you the ultimate advantage over your pray, don't let the darkness slow you down.
Record your Hunting Adventures in Full HD and take photos to bring adventures back home to share with friends, family and on social media. With the ATN X-Sight 4K Pro's video recording feature, you are able to record stunning videos in 1080p at 120 FPS! The video is activated by the recoil of the shot saving the video before and after the shot, Just relax and focus on your game and let the Obsidian Core do the heavy lifting.
The Icarus Photonics Nova 5 IR illuminator is a high power IR illuminator which works with all night vision devices (Gen 1, Gen CORE, Gen 2, Gen 3, Digital). The Icarus Nova 5 features a focusable 50 mm lens allowing it to focus to the maximum level and give an extreme range. It includes a Picatinny mount with adjustable Windage and Elevation settings so that you can aim the IR directly at your target when viewing at long ranges.
Features
Spin to zoom wheel
Classical ergonomics
One shot zero
Enhanced HD Night Vision Mode
Smart range finder
Ballistic calculation
Recoil resistant
Dual stream video
Recoil activated video
18+ hours of continuous use
Recoil resistant
Specifications
ATN X-Sight 4K Pro 5-20x Day/Night Vision Rifle Scope
Magnification
5-20x
Field of View at 1000 yds
240 ft
Sensor
ATN 4K M265 Sensor, 3864 (H) x 2218 (V)
Core
ATN Obsidian IV Dual Core
System Resolution
600 lp/mm
Micro Display
1280x720 HD Display
Eye Relief
90 mm
Video Record Resolution
1080p at 30/60/120** fps
Ballistic Calculator
Yes
WiFi (Streaming, Gallery, & Controls)
iOS & Android
Bluetooth
Yes
3D Gyroscope
Yes
3D Accelerometer
Yes
E-Barometer
Yes
Smart Range Finder
Yes
RAV (Recoil Activated Video)
Yes
Electronic Compass
Yes
Smooth Zoom
Yes
Night Vision Mode
Yes
Reticles
Multiple Patterns & Color Options
Microphone
Yes
Micro SD Card
4 to 64 Gb
Micro USB, Type C
Yes
Mount
30 mm Standard Rings (included)
IR Illuminator
Included
Battery life (Li-ion)
18 + hrs
Battery type
Internal Lithium Ion Battery
Waterproof Rating / IP Rating
Weather resistant
Dimensions (Body Only)
379x76x76 mm
Weight
1.01 kg
Icarus Nova 5 IR Illuminator
Range
Up to 300 m (depends on type of night vision used)
Wavelength
850 nm
Lens Diameter
50 mm
Night Vision Compatibility
Digital, Gen 1, Gen 2, Gen 3
LED Type
Osram SFH 4715AS IR LED
LED Glow
Low red glow
Battery
1x or 2x 18650 Rechargeable Li-ion Batteries
Be the first to review this product
© 2013 - 2021 Futurama.co.za - A Division of Ultranexus (Pty) Ltd | All Rights Reserved | Company Registration No: K2011/114945/07 | VAT No: 4390263624