Details
Description
The Nitecore TM28GT Flashlight, part of the Nitecore Tiny Monster Series, a handheld compact searchlight with easy one handed operation and up to 655 meter beam distance and 6000 lumen brightness It has indisputably strong performance with an onboard multi-function OLED display.
The TM28GT utilises 4 Cree XHP35 HI LEDs and is capable of 6000 maximum lumen bursts. CREE's groundbreaking SC5 technology, through it's improved driver circuit, the CREE XHP35 HI LED ensures subtantial increas inbrightness by 50% while maintaining outstanding light intensity, taking energy efficiency to the next level. LEds are mounted on top of copper substrates made with thermoelectric separation technology to ensure stable long term performance. The 4 driver circuits control the 4 LEDs respectively with high efficiency current regulation providing stable, consistent performance.
The TM28GT flashlight is lightweight and portable, an ideal search tool, with up to 999 hour runtime. Featuring a 655 meter extensive beam distance and reflector array with PDOT incorporated allows for peak beam intensity of up to 1070200 candelas. The TM28GT is waterproof IPX8 (submersible up to 2 meters).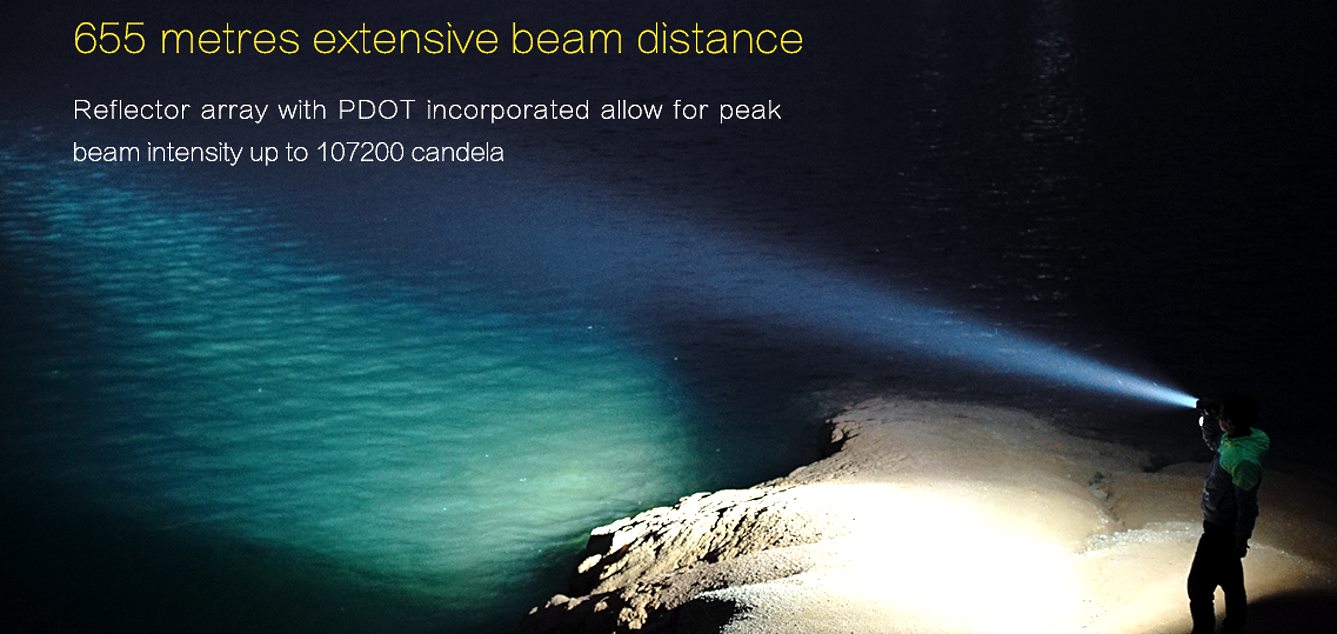 The Onboard OLED display gives an overview of the operating status of your flashlight, check your; brightness level, battery level, battery voltage, remaining runtime and operating temperature.
The multi-functional dual-stage switch providing access to all functions with easy one-handed operation. 2 modes are available:
For Daily Mode. Press the switch partway down to enter daily mode, all subsequent presses will cycle through; Ultra-low, low, mid and high brightness.
For Search Mode. Press the switch all the way down to enter search mode, all subsequent presses will cycle brightness through turbo and high brightness.
The TM28GT features 3 special functions designed for various scenarios; Strobe, S.O.S and Beacon. When the light is turned on, double click the switch to enter strobe, clicking the switch partway down to cycle through; Strobe, SOS and Beacon. To turn the light off, press the switch all the way down. Featuring a Lockout mode to prevent accidental activation and intergrated temperature sensor with temperature regulation to prevent overheating.
The intelligent charging circuit has a built in microprocessor that automatically identifies battery status and adopts the appropriate charging mode (CC, CV, -dv/dt) and the onboard OLED display provides real-time information of the flashlights charging status. The charging port cover shields the port from water and dust. The TM28GT is compatible with with multiple batteries; the majority of 18650 Li-ion batteries (including high discharge IMR batteries) or NBP68HD (high discharge) battery packs.
The TM28GT features a tail stand design and is tripod campatible, with a tripod receptacle allowing you to secure it to your tripod (not included) and provide camp light.

Features
Rechargeable
4 CREE XHP35 HI LEDs
Max output up to 6000 lumens
Max runtime up to 999 hours
Max beam distance up to 655 meters
Onboard OLED display with real-time data
intelligent charging circuit
Temperature regulation
5 brightness levels
3 special functions
Multi-function switch
Power indicator
Mineral optic lenses with anti-reflective coating
Aerospace grade aluminium alloy
HAIII hard anodised
Waterpoof IPX8
Tail Standing
Specifications
| | |
| --- | --- |
| Max Output | |
| Max Beam Distance | 655 m |
| Max Beam Intensity | 107200 cd |
| Max Runtime | Max Runtime 1000 h 0 m / 41.7 d |
| | |
| Reflector | SMO |
| Battery | 4 × 18650 , NBP68HD |
| Special Modes | Location Beacon , SOS , Strobe |
| Beam Colour | |
| | 142 mm |
| Head Size | 68 mm |
| Weight | 414 g |
| Activity | Search , Outdoor / Camping |
Be the first to review this product
© 2013 - 2019 Futurama.co.za - A Division of Ultranexus (Pty) Ltd | All Rights Reserved | Company Registration No: K2011/114945/07 | VAT No: 4390263624